Haidt on Liberals' Leapfrogging Loyalties
Search Text
Case Sensitive
Exact Words
Include Comments
Back in my 2012 review of psychologist Jonathan Haidt's book The Righteous Mind: Why Good People Are Divided by Politics and Religion, I argued:
What Haidt never quite gets across is that conservatives typically define their groups concentrically, moving from their families outward to their communities, classes, religions, nations, and so forth. If Mars attacked, conservatives would be reflexively Earthist. As Ronald Reagan pointed out to the UN in 1987, "I occasionally think how quickly our differences worldwide would vanish if we were facing an alien threat from outside this world." (Libertarians would wait to see if the Martian invaders were free marketeers.)

In contrast, modern liberals' defining trait is making a public spectacle of how their loyalties leapfrog over some unworthy folks relatively close to them in favor of other people they barely know (or in the case of profoundly liberal sci-fi movies such as Avatar, other 10-foot-tall blue space creatures they barely know).
Now Haidt is publishing a study that seems to confirm some of my intuitions:
Ideological differences in the expanse of the moral circle
Article (PDF Available) in Nature Communications 10(1) · December 2019
DOI: 10.1038/s41467-019-12227-0

Adam Waytz, Ravi Iyer, Liane Young, Jonathan Haidt

Abstract
Do clashes between ideologies reflect policy differences or something more fundamental? The present research suggests they reflect core psychological differences such that liberals express compassion toward less structured and more encompassing entities (i.e., universalism), whereas conservatives express compassion toward more well-defined and less encompassing entities (i.e., parochialism). Here we report seven studies illustrating universalist versus parochial differences in compassion. Studies 1a-1c show that liberals, relative to conservatives, express greater moral concern toward friends relative to family, and the world relative to the nation. Studies 2a-2b demonstrate these universalist versus parochial preferences extend toward simple shapes depicted as proxies for loose versus tight social circles. Using stimuli devoid of political relevance demonstrates that the universalist-parochialist distinction does not simply reflect differing policy preferences. Studies 3a-3b indicate these universalist versus parochial tendencies extend to humans versus nonhumans more generally, demonstrating the breadth of these psychological differences.
Here's a picture of concentric circles with a heat map: conservatives (left) feel more warmth toward the center of the circles, while liberals (right) toward the fringes.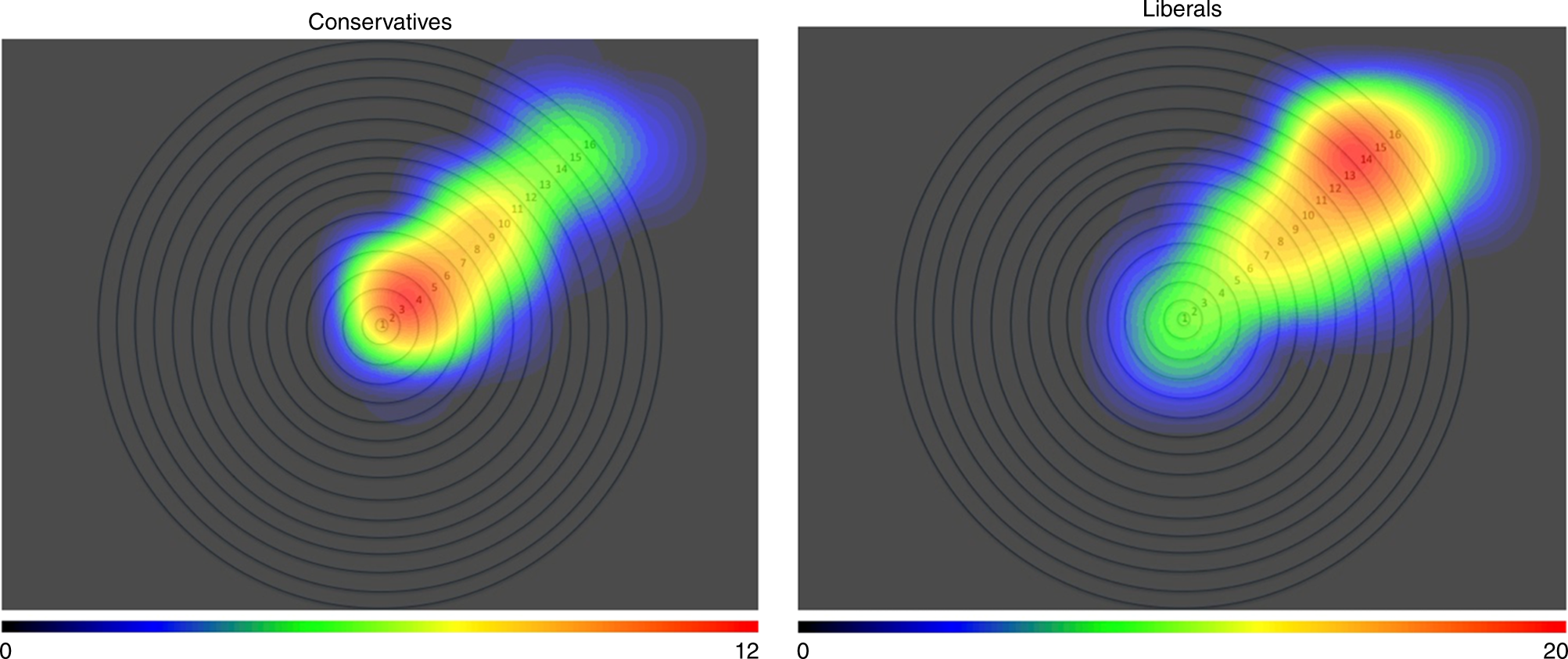 Follow @steve_sailer